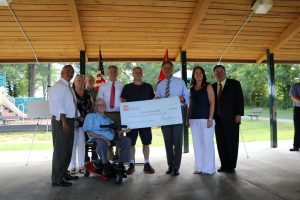 Governor Haslem presented Big Sandy Mayor Ron Lane with a grant award of $112,000. The governor along with State Representative Tim Wirgau, Senator John Stevens, Robert Martineau, commissioner of TN Dept of Conservation and Environment(TDEC), and Gerald Parrish, Director were on hand to announce the awards.
The grant will be used to fund Phase 1 improvement to the Big Sandy City Park, including an additional ballfield, improvements to existing ballfield, new restrooms, playground equipment and increased accessibility to all areas. The grant requires a 50% match by the Town of Big Sandy for a total project cost of $224,000.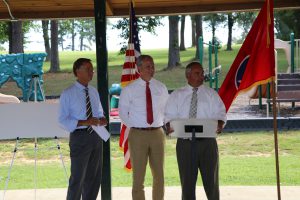 Members of Big Sandy Parks and Recreation Board, Emily Dykes and Robert Burnette were in attendance and city officials Darin Zarro, Chief Jim Sukach and Debbie Wright, City Recorder.
The Parks and Recreation Board working with engineer Jon Allen with Hethcoat and Davis Engineer developed a plan from public input and local sports teams.