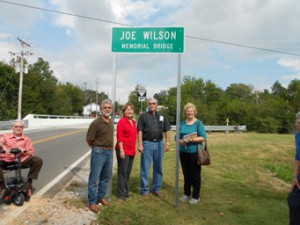 A large crowd gathered on Friday to name the new bridge over the dike on the north side of downtown Big Sandy, the Joe Wilson Memorial Bridge. Big Sandy Mayor Ron Lane moderated a program that consisted of personal tributes to the life and times of grocery store owner Joe Wilson. Wilson had operated the grocery store located near the bridge for over 60 years. Big Sandy citizens Darlene Watson and Ruby Evans spoke about the many families Mr. Wilson assisted over the years. He operated his store on credit many times for people who were having hard time. There were many instances when he was never paid.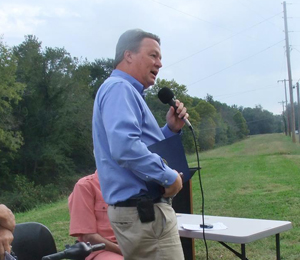 State Representative Tim Wirgau was unable to attend but sent a letter stating, "it was a privilege to carry the bill to allow this presentation to honor Mr. Joe Wilson. My hat is off to someone that truly played a role and had an impact on so may lives that lived in and near the small town of Big Sandy. relish in your moment of excitement and celebration of a hometown hero."
United States Congresswoman Marsha Blackburn sent a letter that was read by her representative Steve Allsbrooks that read in part, "I send greetings to all those gathered today to dedicate the Joe Wilson Bridge. Marks of honor, like bridge dedications, are great points of pride for a community. For many years, family, neighbors, and friends will be able to traverse the Joe Wilson Bridge and remember with kindness and gratitude the friend they once knew.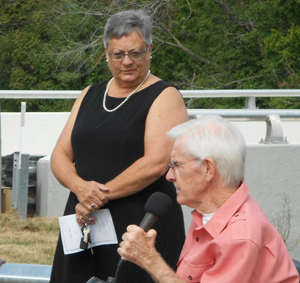 Joe Wilson opened Wilson's Grocery Store in 1929 and it quickly became a place of community and fellowship for Big Sandy. Caring for his neighbors without respect to the ability to pay, Wilson's Grocery was a place for all to receive what was needed for 60 years. Perhaps Mr Wilson was so inspirational because he was born in a different age of kindness, or perhaps because he took some time away from his business to serve in WWII, no matter the reason he made his community his beloved home.
Every citizen has an obligation to leave their community a better place than they found it. I hope and pray the Joe Wilson Bridge will serve to remind all who cross of the greatness and gentleness found in serving, loving, and protecting their neighbor."